【Quality】 - Graving area 300 x 200 mm. Premium CO2 Laser tube with a lifetime of 1000-1300 hours. Thanks to the reinforced body, the service life of the machine is double to three times than the normal CO2 laser engraver. Built -in fan.
【High accuracy】 - motherboard and chip from Japan, deposit from Germany, high-precision step engine for more stable and accurate operation.
【Strong power】 - Using a USB port, you can connect to a desktop or laptop for more accurate engraving control. It includes CorelDraw software with the capability of both Newlyseal and Newlydraw.
【High compatibility】 - supports any model of printers and scanners. Compatible with International Standard Fonts TIF and BMP/JPG/JPEG/WMF/EMF/PLT.
【Wide application】 - use for bearing for bamboo, boards, boulders, corners, leather, crystal, wood, organic plastic, fabrics, ceramics, etc. art gifts, in leather, toy and other industries.
properties:
Model: USBKZJ50W
Laser power: 50W
engraving area: 300 x 200 mm (12 "x 8")
Laser type: CO2 GAS Laser
engraving speed: 0 - 350 mm/s
Minimum size: 1 x 1 mm
Maximum depth for engraving: 3 - 5 mm
Laser should not be used at more than 70 % of power (at full power cuts more than that value). The laser tube must be cooled with distilled water.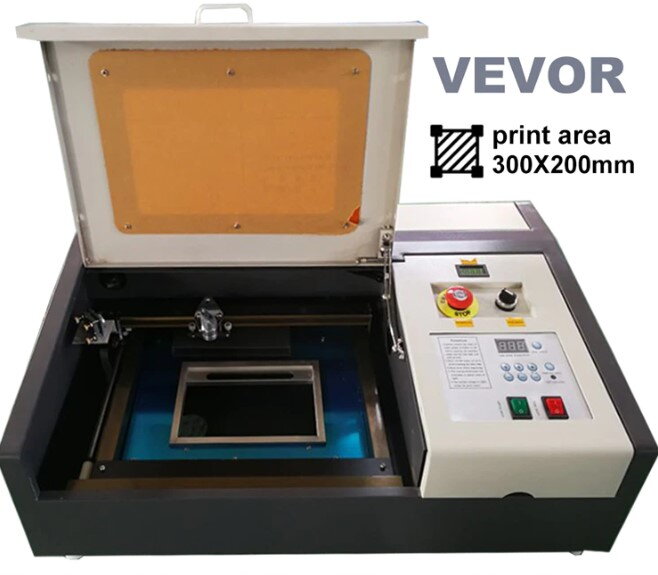 CO2 laser engraver 50 W 300 x 200 mm