product description:
Based on dual -core CPU T5, graphical user interface and axis core runs at 250 MHz. DGUS 40 ms cycle, U is extremely smooth. 128 MB Flash, of which 64 MB is a memory for pictures, 64 MB of font space (after reuse of font and music 32 MB)
up to 524.3 seconds 32kHz 16 -bit WAV format high quality music playback. , 320KTYS or Flash databases of users. 128 kb sram.
supports letters, music, icon and application software update. Support for JPEG image decompression and image update. Up to 255 variable views per page.
Support of standard platform T5 DWin OS: Hardware can lead 20 0, 6-way Uart, Multi-Channel AD, PWM, Provide adapted services.
both the display control and the touch control can be opened, closed or edited in the application to make a comprehensive display combination.
parameters:
Interface mode: FCC 10pin_ 1.0 mm
serial port mode: TTL * 2
current collection: 180MA@5V
working temperature: -20 / + 70 ℃
Working voltage: 4.5-5.5V
length: 12.5 cm
width: 7.5 cm
brightness: 300nit
Includes SD card slot (plus slot microSD card for FW update)
Support of 256 segments (every 2.048 seconds) 32kHz 16bit WAV format of high quality music playback.
Including connection cable to EXP1 and EPX2 connector
including metal frame for easy mounting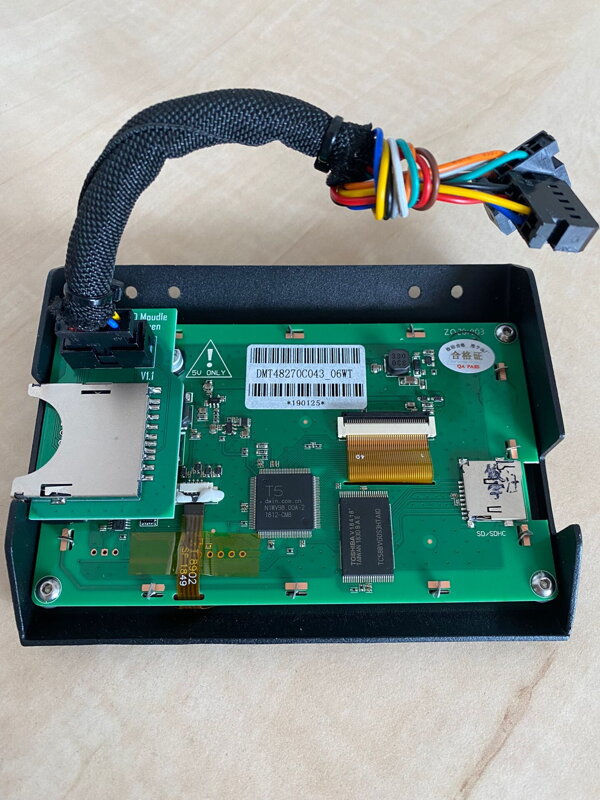 LCD touch screen - LCD Touch Screen Display