3D printer comes in 3 variants - without / with printed parts or assembled, when it is possible to print immediately after unpacking.
Properties:
Filament sensor: The optical sensor that is triggered by a simple mechanical lever. The sensor does not check the optical properties of the string and does not leave due to mechanical wear.
Maintenance: Completely redesigned extruder. In the case of a nozzle or PTFE tube, it is not necessary to discuss the entire extruder. The nozzle and the extrusion motor are placed by the bluz to the X -axis, which brings less resonance and better prints. Better tension belts X -axis.
cooling: Better extruder construction increases air flow, and this leads to improved cooling options. Improved cooling also printed object.
4x temperature sensor - (nozzle temperature, pad temperature, pinda sensor temperature, electronics temperature)
Technical parameters :
Large workspace - 25 x 21 x 21 cm
Integrated LCD, printing from SD card (8 GB in package) or from PC via USB
0.4 mm nozzle (easy to replace) for 1.75mm Filament
layer height from 0.05 mm
automatic printing space calibration
heated pad with cold corners compensation = even cooling in printing all materials
Automatic compensation of inaccurate compound axes of printing area
maintenance -free printing area - no glass, no glue, no ABS juice
Supported materials -& gt; PLA, ABS, PET, HIPS, FLEX PP, NINJAFLEX, LAYWOOD, LABRICK, NYLON, BAMBOOFILL, BRONZEFILL, ASA, T-GLAS, Filaments with Carbon Fiber, Polycarbonate ...
more effective cooling of printing from two sides
Thanks Driverum TMC2130 - Detection and Recovery from Layers' Move
Power Panic - Detection of power outage
Package includes:
Electrical and mechanical parts to assemble the printer
Tools (Allen)
Uncommon plate with 2 PET stickers (we recommend buying Powder plate - or replacement foil or
1 kg Fiber3d Material
If the kit is on order, it takes 1-2 weeks. If we have a kit in stock, we can send the assembled printer during the week.
Files for assembly to build our kit can be found here . If you think of improvements in parts we will be happy for feedback. The parts are continuously updated. For printing parts you need about 400 grams of material - Printing is recommended from material FIBER3D PET-G (files are tested on this material)
assembly instructions here.
User Manual Download HERE.
(it is not an original 3D printer from Průša Manufacturing; 3D printer is a combination of parts of several manufacturers including PR)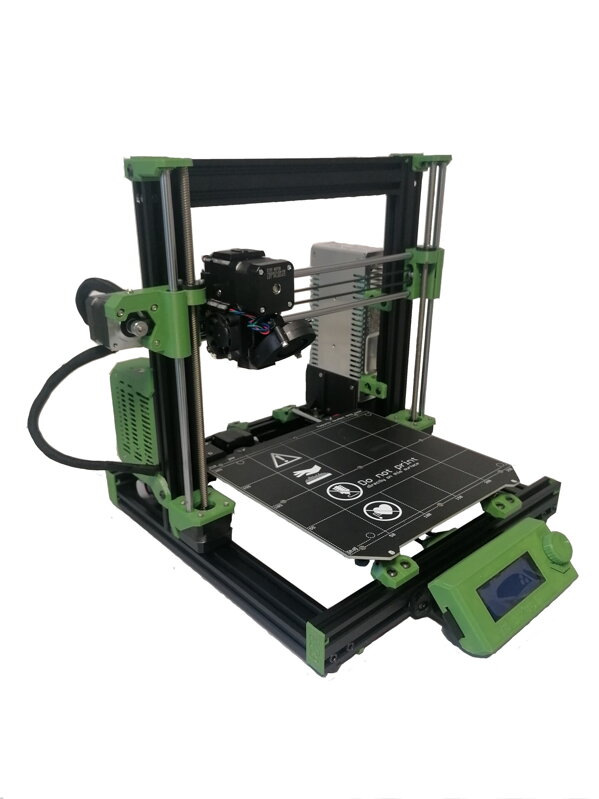 3D printer i3 MK3S - Bear upgrade