Advantages:
The UV printer uses a circulating water cooling system, which ensures operation at low temperatures and a longer lifetime of the UV lamp.
It can print white ink continuously, which is a breakthrough in traditional digital printing technology.
The UV lamp can be started and stopped at any time, without preheating, saving time.
UV light curing ink, no pollution, no smell, instantly cured, no fading.
High-precision printing, the resolution can be up to 1440 dpi.
Automatic height control system.
Using the linear silent rail, stable, reliable and high precision can be ensured.
3 variants:
A3UV19:
Model: A3-19
Printing technology: continuous supply of 6 colors
Print height: 120mm
Print speed: 70 seconds for A4 size photos
Print resolution: 5760 * 2880 dpi
Printing colors: six colors C blue M red Y yellow K black W white
Print range: 320*420mm
Product nozzle: Epson 1390 original
Output software: RIP color management software
UV lamp cooling: air cooling + radiator + circulating water cooling
Height adjustment: infrared automatic height measurement
Nozzle maintenance: automatic cleaning / manual
cleaning / automatic ink extraction
Ink Type: UV Ink/Textile Ink
Ink supply mode: white ink circulation / ink bottle direct supply
Voltage: 220 V 50-60 Hz
A3UV:
Power: 250W
Printing platform size: 500mm * 320mm * 220mm
Length required for machine work: 1153 mm
UV lamp effective area: 500 mm * 279 mm
Printable bottle diameter range: 60-150mm
Printer nozzle type: EPSON Photo L1800/R1390/1430
Print speed: approximately 178 seconds for A3
Printing software: AcroRIP White ver9.0(free)
Color printing configuration: CMYK LC LM or CMYK+2W
Ink delivery method: CISS
Computer operating system: xp win7-10
A4UV:
Power: 90W
Applicable ink type: LED UV ink
Print thickness: 0-50mm (0-2")
Print speed: 4*6 inches/12s
Print Height: 2" (50mm)
Maximum Print Size: 6.5"*12" (165*300mm)
English language
Connection: USB 2.0 port
Working conditions: 68~86F (20-30℃), humidity 40%-70%
Ink System: CISS System, easy to refill
Printing technology: non-contact electric type inkjet printing
Operating system: Windows7-10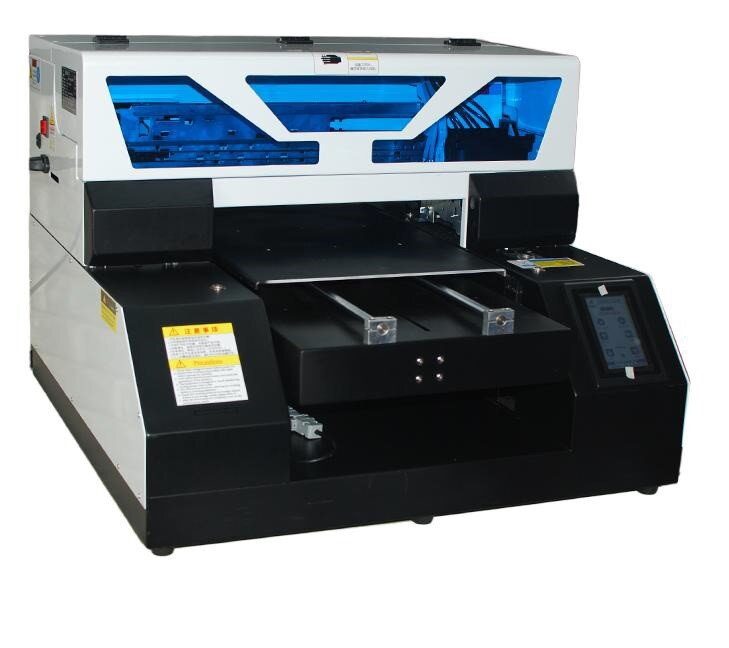 UV printer for printing T-shirts, mugs and other items