CO2 laser engravers require water to cool the tube to operate, during long operation the water may overheat above the required temperature. Thanks to this device, you can keep the water at the required temperature and therefore you can operate the laser for a much longer period of time, you do not have to take a safety break.
Product parameter:
Efficient cooling fan: The cooler has a professional forced air cooling fan and high heat dissipation capacity. High-speed fans inside dissipate heat quickly. The water inlet and outlet holes are made of anti-corrosion brass to prevent leakage problems and extend the life of the product.
Precise thermostat: Equipped with precise temperature control, the temperature can be adjusted as needed. Real-time temperature monitoring ensures that you can accurately monitor the working status of the industrial water chiller.
Various alarm functions: This professional laser water chiller has several warning protection mechanisms, such as water flow, high/low temperature alarm, compressor delay protection and compressor overcurrent protection.
Multiple Uses: The professional industrial laser cooler is suitable for cooling one glass laser tube of CO2 laser engraving and cutting machine.
3 product variants:
CW3000:
Tank capacity: 9L
Package size: 56x36x47CM
Package weight: 11.5 kg
CW5000:
Tank volume: 8 l
Accuracy: ±3℃
Maximum stroke: 25M
Maximum flow: 16L/min
Package size: 70 x 43 x 58 cm
Package weight: 24.6 kg
CW5200:
Tank capacity: 6L
Package size: 70 * 43 * 58 cm
Package weight: 29 kg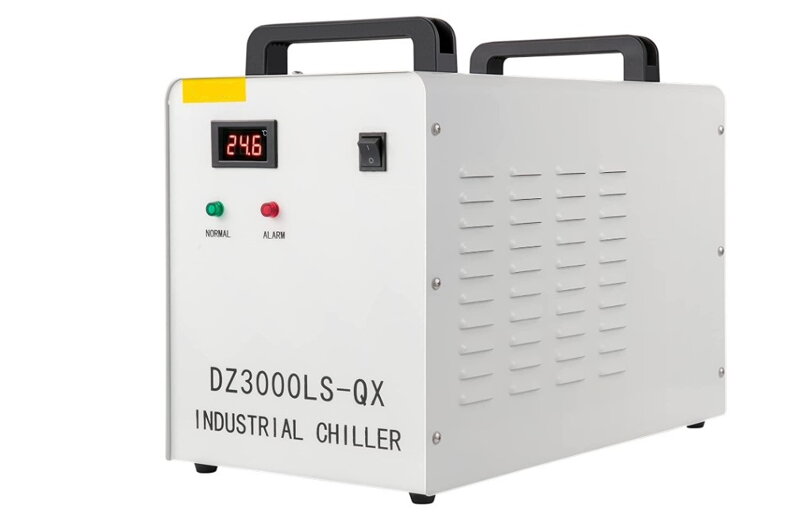 Water cooling for CO2 laser engravers and CNC spindles