If you have filaments that have been sitting in the air for a while or are not printing well, this dryer will ensure that the filament prints better than when it was brand new.
Temperature regulation using a 2" LCD display and timer.
There are two holes on the top cover made of smooth and high temperature resistant teflon so that you can use it even when printing.
FUNCTION
Compared to most fiber drying boxes on the market, our dryers have a larger storage capacity, they can hold two fibers less than 70mm wide (spool MAX. >200mm) at the same time.
No assembly required out of the box. An intuitive digital display and 3 simple touch buttons will make your work easier. Drying filaments quickly and effortlessly.
Our filament dryer not only dries the filaments, but also allows them to dry as they are fed into the 3D printer during the printing process. This way, especially for long and extensive printing, the filament will not absorb moisture during printing. Keeps fiber strong and dry.
It can dry PLA, ABS, PETG, TPU and other common fiber types in the market. Suitable for fiber diameter 1.75/2.85 mm.
SPECIFICATIONS:
Material PC+ABS
Current 4A (MAX)
Output voltage: 12V
Product weight 1.1 kg
Maximum power: 48W
Ambient temperature -9℃~85℃
Input voltage 100V~240V 50/60Hz
Product size 246 * 175 * 242 mm / 9.7 * 6.9 * 9.5 inches
Energy saving: non-working state, 3 min without any operation, automatic shutdown
Note: The actual maximum heating temperature will be affected by the room temperature.
(The package does not contain fibers - illustration photo)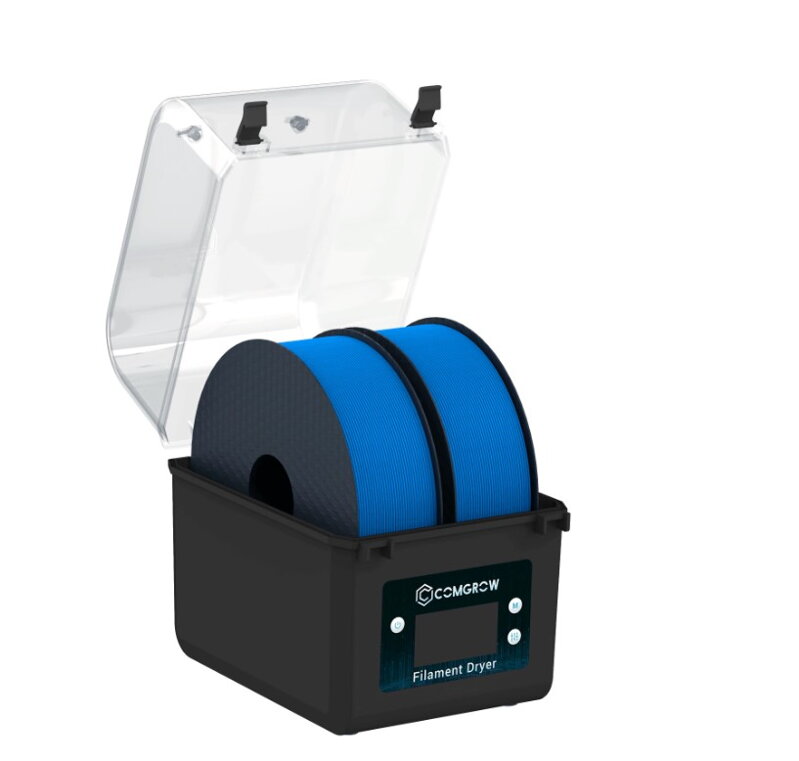 Comgrow dryer for 2 filaments