【 Resin-like ABS 】 Properties similar to ABS. Hardness Shore 81D . Less fragile. Higher toughness and stiffness. High shock strength. Wear resistance. High mechanical properties. Suitable for printing industrial parts that require higher toughness.
【 High accuracy and low shrinkage 】 This resin contains polyurethane acrylate monomers that reduce volumetric shrinkage during the curing process, ensuring a high precision print model with a smooth surface.
【 Fast curing and great stability 】 Esun Rapid Resin has been designed to reduce print time due to its excellent fluidity. Meanwhile, UV resin has a good combination of hardness and toughness, a strong adhesion of the model and easily separates after forming.
【 Professional LCD Formation resin 】 Specially designed for LED light source to achieve better print quality. Esun Resin is compatible with most LCD 3D printers for fast prototypes of cars, electronic products and architectural models.
【 Safe and secure package 】 Pure weight: 500 g. thick aluminum bottle completely protected from light. A leak -resistant bottle fully packed in a plastic bubble bag to ensure that the resin remains where it belongs.
 
wavelength (nm)
density (g/cm³)
viscosity (25 ° C, MPA · s)
hardness
e-resin Pla
395-405
1.07-1.13
200-300
75-80 d
e-resin PLA for
395-405
1.09-1.10
200-300
78-80 d
Standard
395-405
1.08-1.13
150-200
80-82 d
Water Washable
395-410
1.05-1.25
100-120
76 d
Dental Mold
355-405
1.05-1.25
150-300
76 d
hard-tough
395-405
1.10-1.15
200-300
81 d
rigid
395-405
1.10-1.15
200-300
83 d
Castable for Jewelry
395-405
1.05-1.12
100-150
60 d
Castable for Dental
395-405
1.05-1.12
100-150
80 d
Precision model
405
1.13-1.15
150-200
85 d
flexible
395-405
1.02-1.05
600-1400
60-90 and
Abs-like
395-405
1.08-1.12
200-300
75-81 d
Red Wax
355-410
1.05-1.25
150-250
84 d
e-resin PMMA LIKE
395-405
1.05-1.15
300
70 d
 

tensile strength

(MPA)

bending strength

(MPA)

Extension at a break point

(%)

notch toughness

(j/m)

e-resin Pla
35-50
40-60
20-50
15-32
e-resin PLA for
37-48
36-49
25-28
32-36
Standard
46-67
46-72
28-35
18-40
Water Washable
68
45-70
5-10
18-39
Dental Mold
42-62
59-70
11-20
44-49
hard-tough
55-60
70-80
30-50
67-100
rigid
60-70
80-85
25-35
15-42
Castable for Jewelry
42-62
49-58
11-20
44-49
Castable for Dental
42-62
49-58
11-20
44-49
Precision model
335-410
77
12.1
44
flexible
4-10
/
100-350
/
Abs-like
30-60
30-75
35-52
40-110
Red Wax
36-52
59-70
10-20
44-49
e-resin PMMA LIKE
58
30
10
15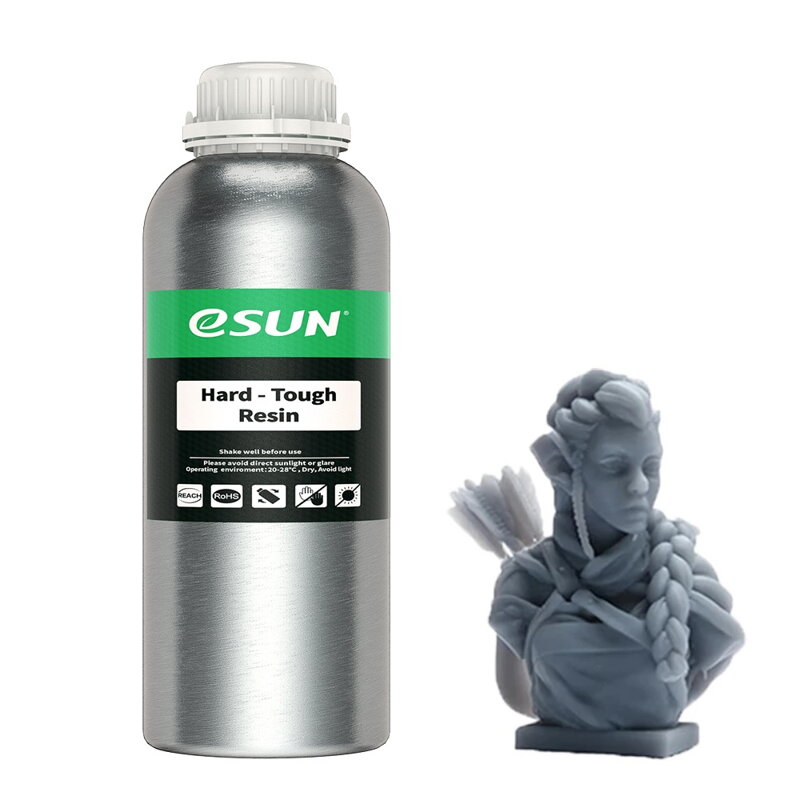 Hard-Tough resin 0.5 kg eSun