Quality printing material brand FIBER3D .
with carbon fiber (Carbon Fiber) is a special PLA, which is reinforced with carbon fiber.
Material description : PLA, Polylactic acid, Polymonic acid is a bioplastic that is made of corn starch with the same properties as plastic made of oil. PLA is more gentle on nature than, for example, ABS. The material is soluble in tetrahydrofurene. Any long-term exposure to acetone can stick the surface. The disadvantage is lower temperature resistance. PLA can be actively cooled during printing, it does not need a heated pad. The PLA processing temperature is 190 - 220 ° C.
Surface treatment : When machining prints, the heat is caused by the heat that causes "pulling" fibers from the print. Therefore, it is advisable to cool the printout when grinding. E.g. underwater grinding; spraying with filling, grinding, repetition of this process until the product is perfectly smooth.
Storage: Secure a dry environment. Protect from heat.
Main advantages of material :
Small shrinking when cooling - no heated pad or chamber
good print quality even when printing at high speed
soluble in sodium hydroxide
Biologically degradable material
Healthy, non -toxic
reinforced with carbon fiber
10 meter sample (+-1 meter - packed manually)
Warning: samples are intended for immediate use.
Additional information
| | |
| --- | --- |
| Category: | Samples, swatches |
| Color: | black, matná, s uhlíkem |
| Weight: | 1 kg |
| Diameter: | ± 0,02 mm |
| Bed temperature: | 0 - 60° C |
| Nozzle temperature: | 190 - 220° C |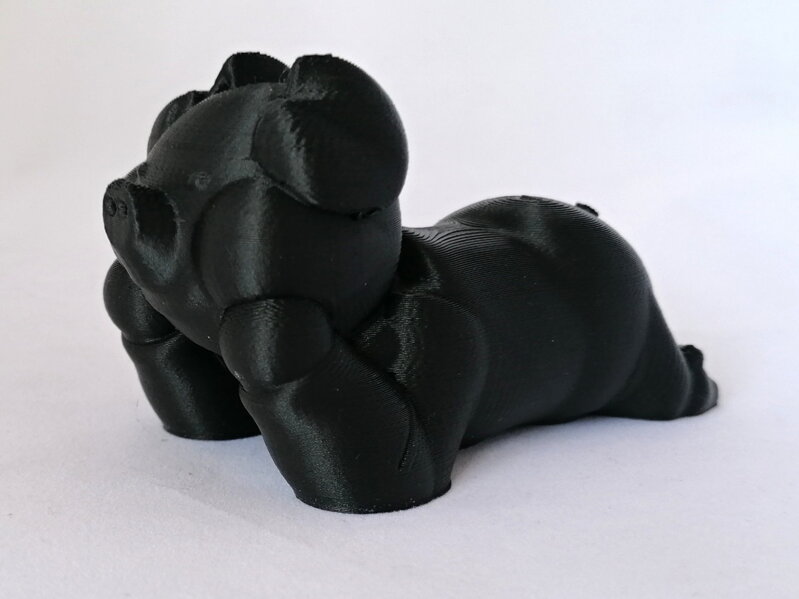 FIBER3D PLA Sample With Carbon Fill 1.75 mm 10 m for 3D pen