Quality printing material brand FIBER3D .
PLA SILK is a new range of PLA strings that have a beautifully silky glossy finish. Compared to the classic PLA, Pla Silk has a beautifully silky glossy surface. Pla Silk Filament is very strong, biodegradable because it is made of renewable natural sources and also does not exclude chemical odor during printing. PLAs helps to print large components more easily.
Material description: PLA, Polylactic acid, polylremical acid is a bioplastic that is made of corn starch with the same properties as plastic made of oil. This plastic is much more gentle on nature than ABS. PLA Silk can be dissolved by tetrahydrofurene, or if long-term exposure to acetone, the surface of the print may be etched. PLA is not healthy and is also degradable in nature-controlled composting. Compared to ABS, the strength of the material is higher, the material is better printable. The only drawback of PLA material is lower temperature resistance. PLA can be actively cooled during printing, it does not need a heated pad.
PLA processing temperature is 190 - 210 ° C.
PLA surface treatment: It is therefore advisable to cool the printout (underwater grinding) when grinding. It is advisable to spray the material first (used in modeling) and then grind, spray again, and repeat this procedure until the model is perfectly smooth for you. The model can then be sprayed with paint.
Storage: We recommend securing a dry environment. In poor storage in a humid environment, it absorbs moisture, which manifests itself as bubbles on the surface. Protect from heat.
Main advantages of PLA:
small shrinking in cooling - no heated pad or chamber
good print quality even when printing at high speed
soluble in sodium hydroxide
biodegradable material
Supplied in 14 shades.
10 meter sample (+-1 meter-packed manually)
Warning: samples are intended for immediate use.
Additional information
| | |
| --- | --- |
| Category: | Samples, swatches |
| Color: | purple, orange, yellow, green, blue, red, white, bronze, black, grey, copper, pink, gold, multicolor, silver, mosaz |
| Weight: | vzorek |
| Average: | 1,75 mm |
| Diameter: | ± 0,02 mm |
| Bed temperature: | 0 - 60° C |
| Nozzle temperature: | 190-210°C |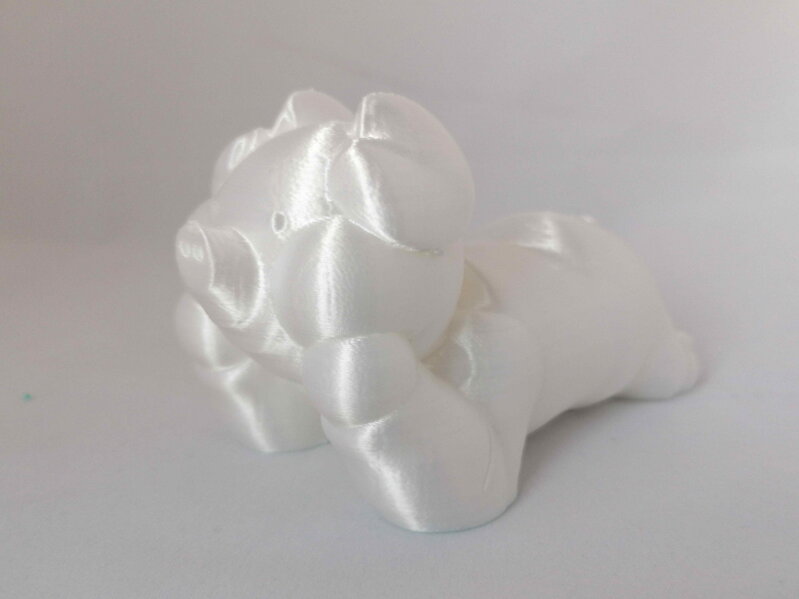 FIBER3D PLA SILK sample - silk filament 1.75 mm 10 m