【PLA-LW】PLA-LW is an improved version of PLA developed by eSUN for model airplanes, drones,
【Stable Dimensional Tolerance】Minimum tolerance and small shrinkage - ensure consistent feeding and stable prints, no clogging, extremely high printing success, resulting in printed parts that have excellent surface finish and are very accurate. (Depending on the printer)
【No knotting and clogging】 1kg spool. Material with excellent circularity and very small diameter tolerance, does not overlap or tangle. It melts easily, does not crack, does not contain bubbles. Print smoothly and repeatedly without clogging the nozzle or extruder.
【Recommended printing temperature】The nozzle temperature of 190-270 °C will ensure smooth prints without frequent calibration and fewer problems with the extruder. At around 210-270°C, this material starts to foam during printing, increasing its volume by almost 1.2 times, and the print extrusion speed can be reduced to 45% for printing light parts.
【Vacuum-sealed packaging】 Net weight of material : 1 kg. eSUN's filament comes sealed in a vacuum bag with a desiccant that keeps it dry and free of dust and foreign particles, preventing clogging of nozzles and providing smooth 3D models.
String diameter: 1.75 ± 0.03 mm
Coil Dimension: Diameter 200mm - Width 64mm - Center Hole 57mm
Package size: 216 x 202 x 76 mm
Package weight: 1.48 kg
Nozzle temperature: 190-270℃
Pad temperature: 45-60℃
Density: 1.2 g / cm3
Melt Flow Index: 8.1 (190 °C / 2.16 kg) g / 10min
Tensile strength: 32.2 Mpa
Elongation at breaking point: 68.9%
Flexural strength: 41.31 Mpa
Flexural modulus: 1701 Mpa
Notch toughness: 8.58 KJ / ㎡
Manufacturer: eSUN
Additional information
| | |
| --- | --- |
| Category: | PLA |
| Color: | natural |
| Weight: | 1 kg |
| Average: | 1,75 mm |
| Diameter: | ± 0,03 mm |
| Bed temperature: | 45 - 60°C |
| Nozzle temperature: | 190 - 250 °C |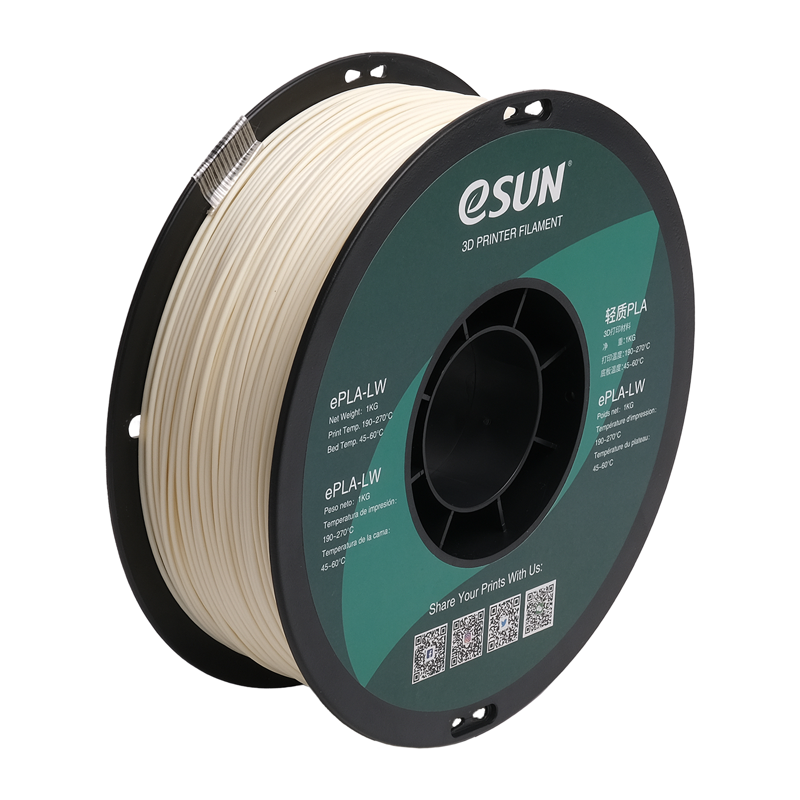 ePLA-LW filament 1,75 mm 1 kg eSUN