Smartfil nylstrong:

It is a nylon filament (PA6) reinforced with glass filler, is therefore ideal for industrial use. It is characterized by good mechanical and heat resistance, it is very stiff. Nylon is one of the most common polymers occurring around us, from things in household to car parts.

Diameter: 1.75 mm (± 0.03)
Working temperature: 250 ° C
pad temperature: 90-110 ° C
Pack size: M 750 g
Large packs XL 3.3 kg, xxl 5.6 kg, xxxl 8 kg are available on order with delivery date 2- 6 weeks. Recyclable.
Additional information
| | |
| --- | --- |
| Category: | PA - nylon |
| Color: | natural |
| Weight: | 0,75 kg |
| Average: | 1,75 mm |
| Diameter: | ± 0,03 mm |
| Bed temperature: | 90-110°C |
| Nozzle temperature: | 255±10°C |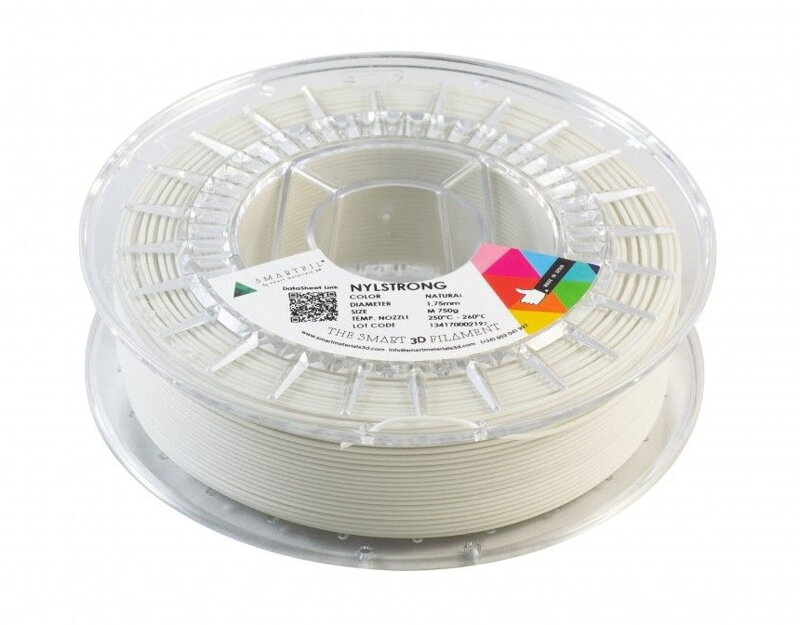 Nylstrong Filament Natural 1.75 mm Smartfil 750 G Nylon