Smartfil e.p.:
This print string is harder than classic PLA but prints as well as PLA. This material can be machined to obtain a fully smooth finish. Grinding with sandpaper together with water leaves a surface similar to ceramics. All color types can be used for the paint.
E.P will find use live in architecture, restoration, design. It is also suitable for modelers, sculptors, as well as for dentistry (odontology), etc.
diameter: 2.85 mm (± 0.05)
working temperature: 200 ° C
pad temperature: 0-60 ° C
Pack size: M 750 g
Large packs XL 3.3 kg, XXL 5.6 kg, xxxl 8 kg are available on order with delivery date 2- 6 weeks. Recyclable.
This material can come into contact with food.
Declaration of conformity with EU Regulation 1935/2004 and other European regulations. This statement can be found here: Material contact with food
Technical sheet
Safety Sheet
Additional information
| | |
| --- | --- |
| Category: | Special |
| Color: | white |
| Weight: | 0,75 kg |
| Average: | 2,85 mm – 3 mm |
| Diameter: | ± 0,05 mm |
| Bed temperature: | 0-60°C |
| Nozzle temperature: | 200±10°C |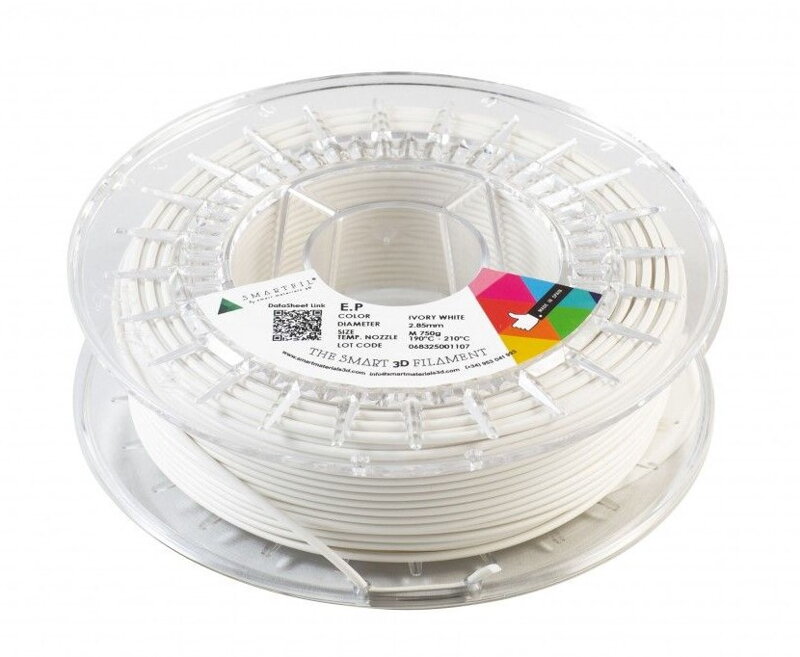 E.P. Filament White Ivory 2,85 mm Smartfil 750 g