Quality printing material of the FIBER3D brand.
PVA material is the material most used in multi-head printers. One head prints PVA supports and the other the object itself.
Material description: PVA, polyvinyl alcohol, is a water-soluble material that is ideal for printing supports. When printing, one support head prints from PVA, which you then dissolve in water. The object itself is printed from the other head. These are mainly more complex PLA models with overhangs and hard-to-reach places. It is a biodegradable and non-toxic fiber. Processing temperature 190 - 220°C.
Storage: store in a dry place. Protect from heat.
List of main features:
water-soluble material for printing support
biodegradable, non-toxic
Weight incl. packaging: 0.86 kg; Coil outer diameter: 200 mm; Center hole diameter: 75mm; Coil width: 64 mm.
Weight of the empty coil approx. 141 g.
Mass flow rate: 3 - 4 g / 10 min (190°C)
The material is supplied in a cardboard box or without a box, vacuum packed together with silica gel, which absorbs moisture.
Supplied in a transparent shade.
Additional information
| | |
| --- | --- |
| Category: | PVA |
| Color: | transparent |
| Weight: | 0,5 kg |
| Average: | 1,75 mm |
| Diameter: | ± 0,02 mm |
| Bed temperature: | 0 - 50° C |
| Nozzle temperature: | 190 - 220° C |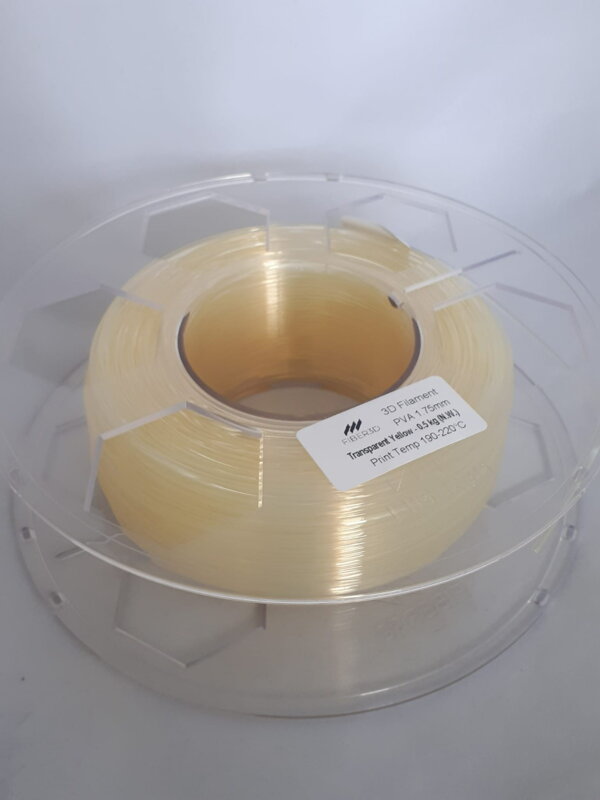 FIBER3D PVA filament 1.75 mm 0.5 kg