This laser engraver is available in two variants, 5 W and 10 W.
Function:
FAC + LD laser module, spot diameter 0.08mm, compared with normal laser module cutting 2-3mm wood, 5w LD + FAC laser module can easily cut 4mm wood, 10w can cut 8mm wood (the values ​​shown are approximate from the manufacturer and cannot be guaranteed due to the different properties of different types of wood)
Two Y-axis motors, high-speed engraving is more stable, can effectively reduce engraving noise
High Z-axis range with manual height adjustment, suitable for most rotary accessories.
Large engraving area 400*400mm.
Equipped with a laser protective cover (the protective cover is not included in the package, you can find it here), the filtering efficiency of ultraviolet light can reach 97%, and you can watch the engraving without protective glasses.
Full metal frame, high precision engraving.
Pre-assembled kit, total assembly within 20 minutes.
Parameters:
Product size
575*575*205 mm
Software
LaserGrbl/Lightburn
Package size
610*310*175 mm
System
LaserGRBL:Windows XP、7、8、10
Lightburn:Windows XP、7、8、10、M
Net weight of the machine
4.0 kg
Supported file format
nc/.dxf/.bmp/.jpg/.png a etc
Total package weight
5.4 kg
Laser wavelength
445±5 nm
Engraving speed
5000 mm/min
Laser head performance
5 W / 10W
Motherboard style
1x X-axis, 2x Y-axis
Engraving area
400*400 mm
Electric power
96 W
Relative certificates
ROHS2.0/FCC/CE/FDA
Baud rate
115200
Engraving material

Wood / bamboo / cardboard / plastic / leather /
acrylic / glass / lacquered metals

MCU
32 bits
Engraving/cutting material
Wood/Cardboard/Leather/Acrylic etc.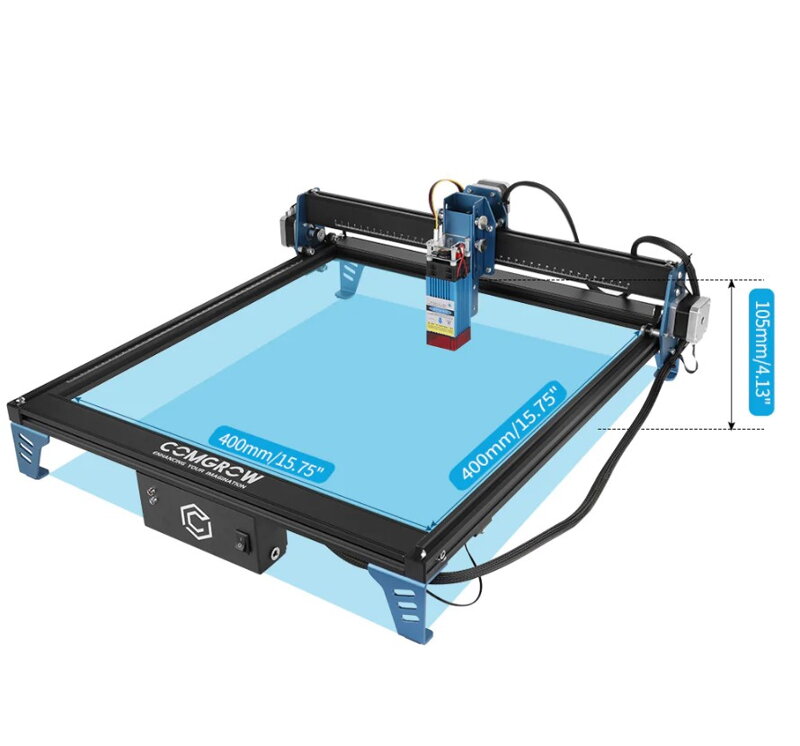 Comgrow Z1 laser engraver