properties:
Acrylonitril-style-acrylate (ASA) polymers are amorphous and have mechanical properties similar to ABS plastics. However, ASA properties are much better for outdoor use. ASA components have good chemical and thermal resistance, high impact strength, even at low temperatures. Typical ASA applications are buildings / construction and automotive industry.

Asa Filament offers unique properties, thanks to the permanent diameter and perfect circularity. In addition, Asa Filament does not come in contact with water and is immediately packed in vacuum.
The material has a great grip between layers. This results in a high improvement in character resistance, strength, durability and printing process. We do not recommend a room where people sleep.
Use: suitable for the production of prototypes, engineering tools and end products for common use, including use for printing parts for outdoor applications. Printing is comprehensive and strong, suitable for small details, the printed object is glossy.
Additional information
| | |
| --- | --- |
| Category: | Sale |
| Color: | natural |
| Weight: | 0,75 kg |
| Average: | 2,85 mm - 3 mm |
| Diameter: | ± 0,05 mm |
| Bed temperature: | 90 - 110° C |
| Nozzle temperature: | 240-280°C |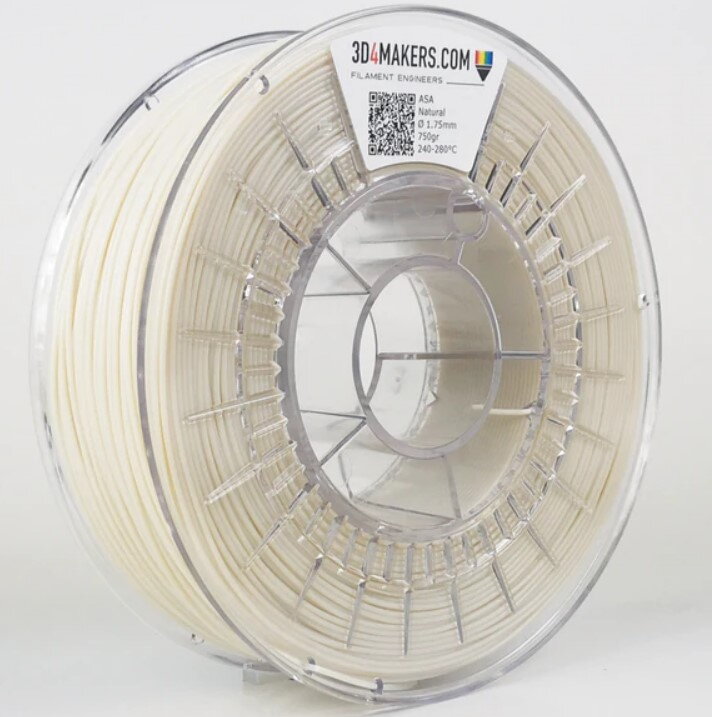 ASA 2.85 mm 750 g Naturel