Thermistor replacement is carried out by means of fasteners with shrink tubing, so there is no need to replace the entire cable. The installation of the thermistor is therefore uncomplicated and very simple.
The cable length is 300 mm. The temperature interface is from -30 ° C to 300 ° C.
According to the table below, select a suitable thermistor according to your 3D printer.
thermistor
3D printer
Hotend
heated pad
The Termistor - Glass SEALED

Ender 3

Ender 3 for

Ender 3 v2

Ender 3 Max

Ender 5

Ender 5 for

Ender 5 Plus

Ender 6

CR-10

CR-10 V2/V3

CR-10 with

CR-10 S4

CR-10 Max

CR-10S for

CR-10S for v2

CR-2020

CR-30

CR-5 for

CR-X

CR-X for

td>

Ender 3

Ender 3 for

Ender 3 v2

Ender 3 Max

Ender 5

Ender 5 for

Ender 5 Plus

Ender 6

CR-10 Max

CR-10S for

CR-10S for

v2

CR-2020

CR-6 SE

CR-6 MAX

CR-20

CR-20 for

CR-X

CR-X for

sermoon d

td>
a set of thermistor - stainless steel interface
CR-5 for High Temp
-
tbody>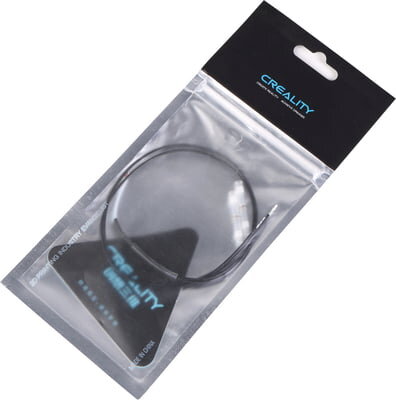 Creality set of thermistor
Alternative products
HT-NT100K thermistor in roller design. At the end there is a JST XH connector - MKS boards, Anet board, GT25602 cable length variants.

Availability: In stock >10pcs

Universal 3D printer temperature sensor. Temperature sensor with resistance up to 300 ° C, proven temperature (varies by a maximum of 5% compared to the infrastructure measurement). In the marlin firmware corresponds to the thermistor with number 1 or 5. A suitable replacement for Anet, Pruša, Geetech, E3D

Availability: Sold out
Privacy preferences
We use cookies to improve your visit to this website, to analyze its performance and to collect data about its use. We may use third party tools and services to do so and the data collected may be passed on to partners in the EU, the US or other countries. By clicking on "Accept all cookies", you agree to this processing. You can find detailed information or adjust your preferences below.
Product has been added to the cart