Properties
for live details in 6K resolution

Impressive print speeds

Powerful Light Matrix

for large -format prints
Description
Powerful LCD Resin printer Anycubic Photon Mono X 6K with very high resolution for even more detailed models.
Printer is equipped with a large 9.25 "screen, which is 185 % larger than 5.5" screen printer Anycubic Photon, 138 % larger than the traditional 6 "screen and 8 % larger than 8.9 "The screen of the Photon Mono X printer.
Creativity space is able to print up to 245 x 197 x 122 mm (HWT).
Live details in 6K resolution
with a resolution of 5760 x 3600 px has a Photon Mono X 6K screen over 20 million pixels.
Sharp edges and corners
First -class screen with a 350: 1 contrast ratio (75 % higher than the Anycubic Photon X) provides sharp and clear edges of 3D models.
Foil against scratches and extension of screen life
Powerful light matrix
40 bright LEDs situated in the matrix creates a powerful and parallel light source, allowing the resin printer to provide light uniformity ≥ 90 % and power density ≤ 44 395 luxes for each layer. This guarantees faster printing.
High light throughput only 6 %, that allows quick conversion (200 % higher than Photon Mono X).
Adjustable power - Universal Compatibility
with 30% - 100% light power regulation is supported by Photon Mono X 6K not only conventional 405nm UV resin, but also special resins, allowing more materials.
Correct light power adjustment can significantly extend the life of screen and lights.
Free Slicing Software - No Monthly Fees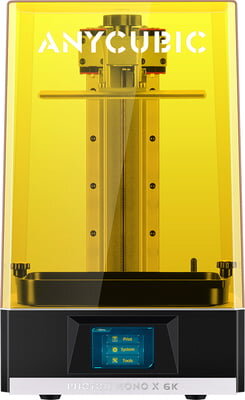 Anycubic Photon Mono X 6K