ng> solid - hardness 65 shd
Fixed Resin of Photocentric is suitable for solid objects that under greater force are to slightly flexibly deform. Prints from this type of material can be bent a little and slightly stretched during compression, but maintain a good strength in the cut with a limited length of the extension. The material has similar mechanical properties to polypropylene.
This UV resin is suitable for Laser printers Form 1+, Form 2, Peopoly Maoi, Nobel .
Required wavelength for curing is 405 nm.
Fixed UV resin Photocentric is standardly produced in colors: clear, gray and black .
More from Photocentric's range of UV resins:
Hard
The hard resin of the Photocentric brand is ideal for the production of objects where a very hard print is desired, which does not deform even under greater force. This type of UV resin has a slight shrinkage (2%). Curing is fast. Prints show very good tensile strength, high Vicat softening temperature and almost no elongation
Hardness: 77 ShD
Flexi
Flexible polymer prints are still hard but flexible. You can easily bend or compress the print and it will return to its original shape in no time. Low tensile strength and higher elongation are typical for Flexi polymer.
Hardness: 85 ShA
Castable
Castable photopolymer is specially designed to create high quality molds. It leaves almost no ash when burned. During firing, the resin is gasified as the temperature rises to prevent pressure build-up during casting. A highly detailed surface perfect for your mold will remain dry.
Hardness: 75 ShD
Tough
The products are stiff, but show good elasticity, strength, good tensile and shear properties, little shrinkage. When pressed, it returns to its original position.
Hardness: 80 ShD
High strength
The prints show high tensile strength, low elongation and little shrinkage. Objects will not bend.
Hardness: 60 ShD
Additional information
| | |
| --- | --- |
| Category: | UV LASER |
| Color: | transparent |
| Weight: | 1 kg |
| Hardness: | 65 ShD |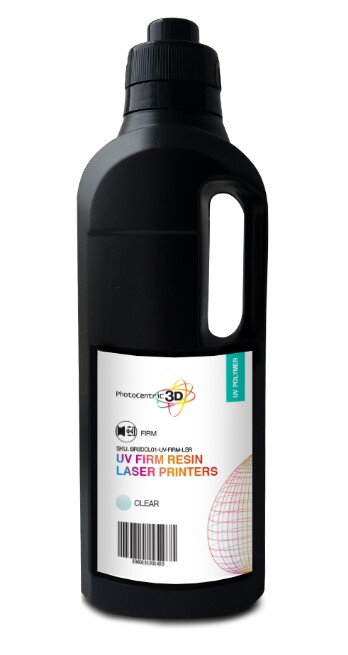 UV Resin Fixed Photocentric clear 1 kg for laser printers LASFMCL01