highly durable polypropylene (PP) for 3D printing technologies (FFF) FUSED FILAMENT FABRICATION.
one of the most used plastics in the industry.
good mechanical properties, stiffness and tensile strength.
good adhesion for subsequent surface treatment.
resistant to acids, principles/lye and organic solvents.
very lightweight.
Made of granulate suitable for food contact.
good translucency.
usability on the components stressed by pulling.
*Recommended print pad is PP foil

> Technical Specifications :
-DeColation: Underline; "> Process temperature span>: 220 ° C
Clean Weight : 0.5 kg
/> Melt Flow Rate @ 230 ° C, 21.1n : 20.0 g/(10 minutes)
Underline; "> density span>: 0.89 g/cm 3
° C
Hardness D on Hardometer (JIS K 6253) < /Span>: Shore D55
e; "> Flexural Strength : 14 MPa
Flexural Module : 350 MPa
Impact Strength >: 14 MPa
Extension (JIS K 7113) : 200 %
Additional information
| | |
| --- | --- |
| Category: | PP |
| Color: | transparent, natural |
| Weight: | 0,5 kg |
| Average: | 1,75 mm |
| Diameter: | ± 0,05 mm |
| Bed temperature: | 100°C |
| Nozzle temperature: | 220°C |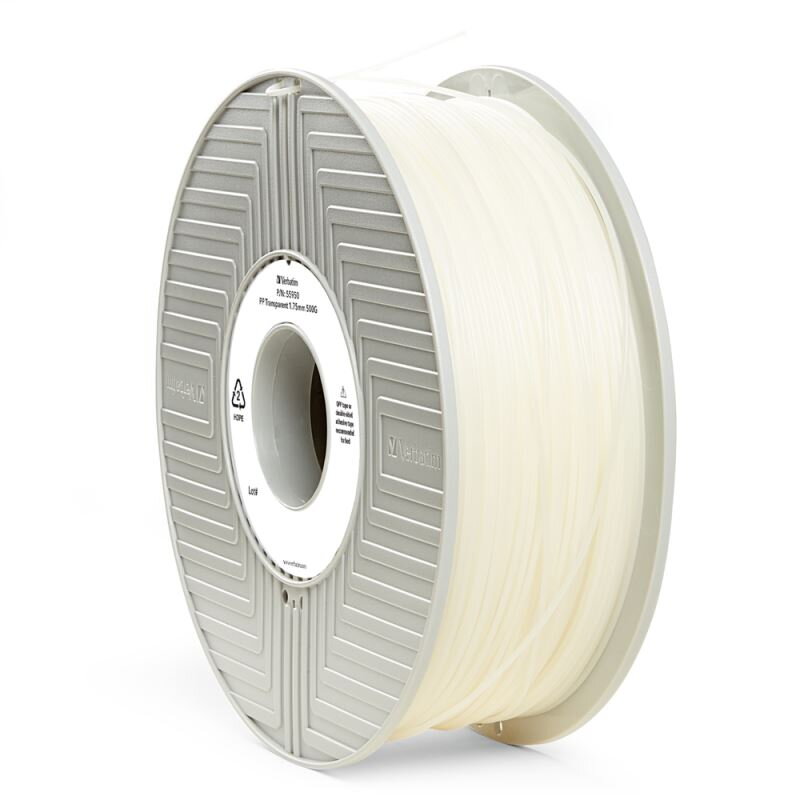 PP Filament 1.75 mm Transparent 0.5kg Verbatim