MAGIC-HT-M is a 3D printer specially designed for engineering plastics, with 450°C extruder temperature, 150°C substrate temperature and 90°C chamber temperature, it is able to support most plastics in the market. It has a modular mechanism on the extruder that allows for easy maintenance.
Specifications:
Print volume: 220*220*220 mm
Nozzle temperature: up to 450℃
Temperature of heated chamber: up to 90°C
Number of nozzles: 1 easily removable
Supported filaments: PEEK, ULTEM, PPSU, PA, PC, ABS, ASA, PETG, HIPS, TPU, PLA, PVA, etc.
String diameter: 1.75 mm
Nozzle diameter: 0.4mm (default), 0.8mm-1.0mm (optional)
Layer thickness: 0.05 – 0.3 mm
Print speed: 0-150 mm/s
Carbon fiber print plate - quick removable
Automatic leveling
Resume printing during power failure
Filament absence warning
Control via WIFI or touch screen
File transfer via USB, SD card and WIFI
Web camera for press surveillance
Positioning accuracy:X/Y10.5μm Z:1.25μm
Device size 505x435x515 mm with a weight of 35 kg
More photos and information can be found in PDF.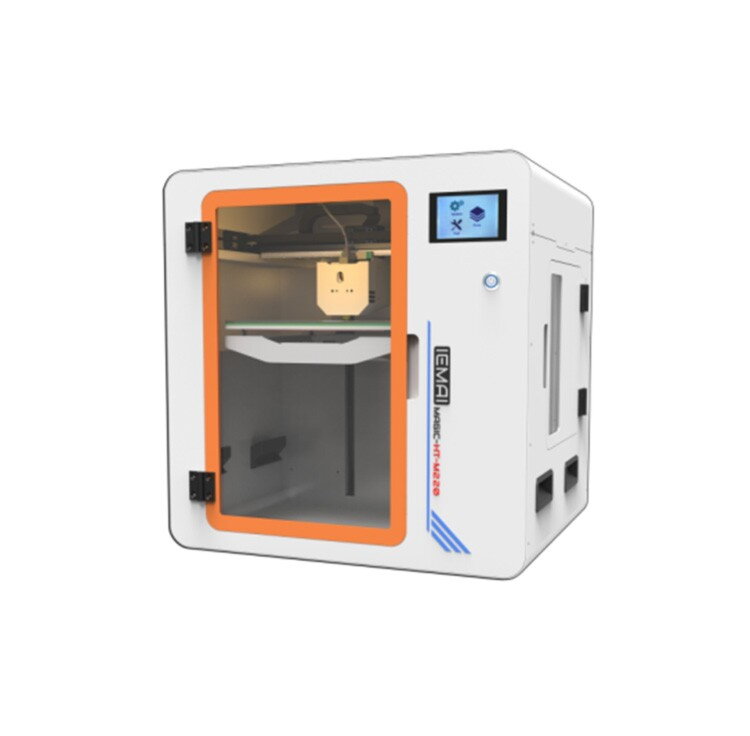 High temperature printer IEMAI MAGIC HT-M