peek is commonly used in the automotive and aerospace industry Tubes, seals, bearings and brackets.
3,8 GPA and notched IZOD 8 kj/m
, structure and fill. Parts can be brindle after printing.
characteristics:
-while maintaining its mechanical properties tolerate temperatures up to 250 ° C! Span>
- is resistant to most chemicals (except for sulfuric and strongly oxidized media)
Size: 12pt; ">- has a very good UV resistance span>
- material melting occurs at 343 ° C. < /span>
-Hardness according to Shore 84.5 d

12pt; ">- diameter: 1.75 mm (± 0.03)

-working temperature: 400 ° C
Style = "font-size: 12pt;">- Chamber temperature: & gt; 120 ° C
!
Peek is a high-temperature thermoplastic suitable for demanding applications and as such is more difficult to print. The printing temperature is 400 ° C, along with a printing pad of 120 ° C. Printing in a closed box is not necessary, but to achieve minimization of deformations and protection against drafts, we recommend that you close the printing. Due to the printing at high temperatures, carefully balanced Bed is important and maintaining the nozzle distance to the pad, namely 300-400 microns with the height of the first printing layer of 300 microns. When setting correctly, prevent nozzles or melting of the structure. The platform is generally used to print Peek, because it is easier to remove it from the bed than a flat bottom. The fiber should be stored in an environment without moisture, as humidity can seriously affect print quality. If the bubbles occur during printing, the 3D philament level is too high. Dry at 150 ° C for 3-4 hours. To improve the properties of the material, you can peek to be annexed in the usual way. span>
package size : s 400g
recyclable. Can come into contact with food.
Additional information
| | |
| --- | --- |
| Category: | PEEK |
| Color: | natural |
| Weight: | 0,4 kg |
| Average: | 1,75 mm |
| Diameter: | ± 0,03 mm |
| Bed temperature: | 120°C |
| Nozzle temperature: | 400±30°C |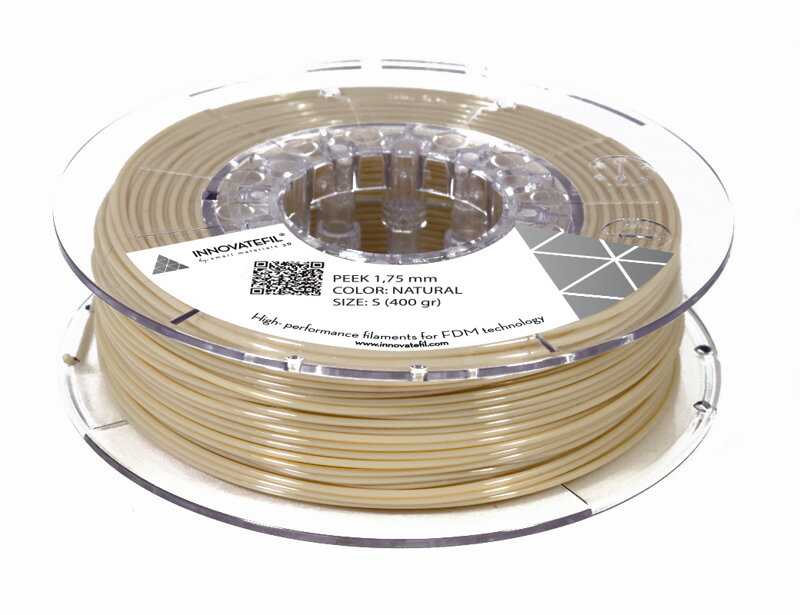 Innovatefil Peek Filament Natural 1.75 mm 400 g