thermoplastic polymer whose main component is pvb (this material is also made safety glass). This filament has better mechanical properties than ABS and PLA. It stands out for its increased impact resistance, it is also flexible and does not stink. You can therefore print parts of large dimensions and high quality without fear of deformation. In addition, it can be chemically polished by alcohol. This creates unique pieces with a completely smooth surface and with high transparency, which can not match none of the filaments so far.
to achieve a fully transparent look we recommend :
1 perimeter peripheral wall and hollow model. Subsequently coat the print with isopropyl alcohol (minimum 70% alcohol). Alcohol fumes (vaporization - similar to working with acetone and ABS) can also be exterminated. Or soak, but very carefully. If the model is exposed to longer contact with alcohol and loses its mechanical properties.

diameter : 1.75 mm (± 0.03)
working temperature : 220 ° -240 ° C
pad temperature : 50 ° -100 ° C
pack size : M 750g
big packs xl 3.3kg, xxl are available to order with a delivery date of 2-6 weeks.
recyclable. Can come into contact with food.
Additional information
| | |
| --- | --- |
| Category: | PVB |
| Color: | transparent, natural |
| Weight: | 0,75 kg |
| Average: | 1,75 mm |
| Diameter: | ± 0,03 mm |
| Bed temperature: | 0-60°C |
| Nozzle temperature: | 220±15°C |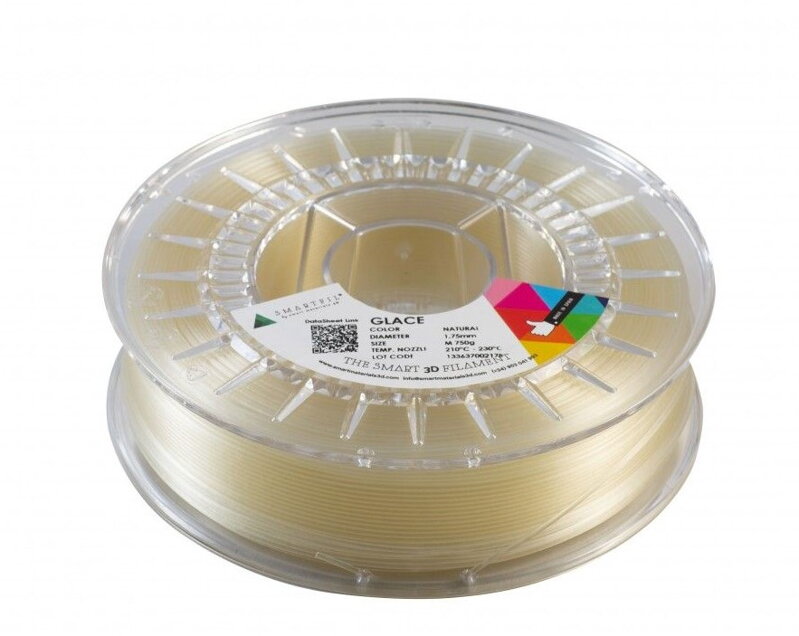 GLACE FILAMENT NATURAL transparent 1.75 mm smartfil 750 g