【Water washable and almost odorless】 easy to clean, you can clean the prints directly with water and without typical odor. Thanks to this resin, you do not have to come into contact with strong industrial clamps or alcohol. Low risk of skin irritation. Suitable for corporate operations.
【High accuracy and low shrinkage】 eFlexible - flexible resin ESUN contains polyurethanacrylate monomers that reduce volume shrinkage during curing process, ensuring high precision of the printing model with smooth surface.
【Rapid curing and great stability】 low viscosity and excellent liquidity make it easy to separate the cured resin from unzilized. Esun LCD Resin has been designed to reduce print time due to its excellent fluidity. Also, this UV resin has a good combination of elasticity and toughness, strong adhesion of the model and easily separates after forming.
【Professional LCD Photodeless resin】 specially designed for LED light source to achieve better print quality. Esun Flexible Resin is compatible with most LCD 3D printers for rapid prototyping. Ideal for phones, medical models, toys and shoe models.
【Safe and secure packaging】 Clean weight: 500 g. Fat aluminum bottle completely protection from light. A leak -resistant bottle fully packed in a plastic bubble bag to ensure that the resin remains where it belongs.
 
wavelength (nm)
density (g/cm³)
viscosity (25 ° C, MPA · s)
hardness
e-resin Pla
395-405
1.07-1.13
200-300
75-80 d
e-resin PLA for
395-405
1.09-1.10
200-300
78-80 d
Standard
395-405
1.08-1.13
150-200
80-82 d
Water Washable
395-410
1.05-1.25
100-120
76 d
Dental Mold
355-405
1.05-1.25
150-300
76 d
hard-tough
395-405
1.10-1.15
200-300
81 d
rigid
395-405
1.10-1.15
200-300
83 d
Castable for Jewelry
395-405
1.05-1.12
100-150
60 d
Castable for Dental
395-405
1.05-1.12
100-150
80 d
Precision model
405
1.13-1.15
150-200
85 d
flexible
395-405
1.02-1.05
600-1400
60-90 and
Abs-like
395-405
1.08-1.12
200-300
75-81 d
Red Wax
355-410
1.05-1.25
150-250
84 d
e-resin PMMA LIKE
395-405
1.05-1.15
300
70 d
 

tensile strength

(MPA)

bending strength

(MPA)

Extension at a break point

(%)

notch toughness

(j/m)

e-resin Pla
35-50
40-60
20-50
15-32
e-resin PLA for
37-48
36-49
25-28
32-36
Standard
46-67
46-72
28-35
18-40
Water Washable
68
45-70
5-10
18-39
Dental Mold
42-62
59-70
11-20
44-49
hard-tough
55-60
70-80
30-50
67-100
rigid
60-70
80-85
25-35
15-42
Castable for Jewelry
42-62
49-58
11-20
44-49
Castable for Dental
42-62
49-58
11-20
44-49
Precision model
335-410
77
12.1
44
flexible
4-10
/
100-350
/
Abs-like
30-60
30-75
35-52
40-110
Red Wax
36-52
59-70
10-20
44-49
e-resin PMMA LIKE
58
30
10
15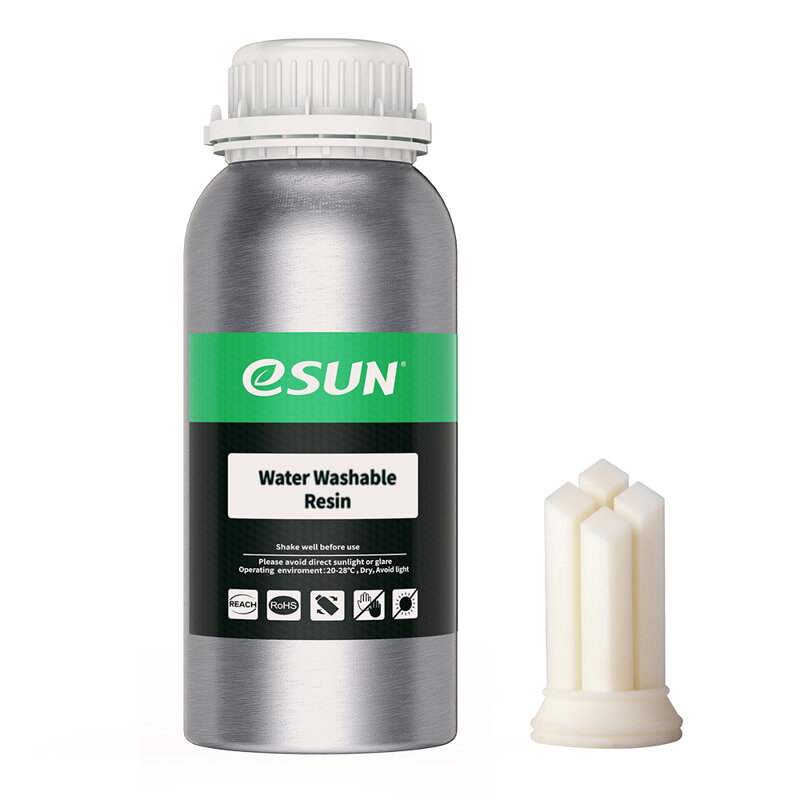 Water washable Resin eWashable eSun 0.5 kg