Try the most modern novelty in the world of three-dimensional printing!
Smartfil Medical:
Filament for professional 3D printing, suitable for use in healthcare. Print your models with a material meeting strict biocompatibility conditions according to the European standard ISO 10993-1 and meeting class VI according to the USP. This degree allows for the contact of the material with the human body for a defined period of time. '

This is a high quality material with which you can create precise parts with large details and without deformations.

Diameter: 1.75 mm (± 0.03)
Working temperature: 230-250 ° C
pad temperature: 90 ° C
Pack size: M 750 g
Large packs XL 3.3 kg, XXL 5.6 kg, xxxl 7 kg are available on order with delivery date 2- 6 weeks.

Biocompatible. Recyclable.
This material can come into contact with food.
Declaration of conformity with EU Regulation 1935/2004 and other European regulations. This statement can be found here: Material contact with food
"Noopener Noreferrer" href = "https://www.na3d.cz/user/documents/shop/filament/upload/medical_smartfil.pdf" Target = "_ BLANK"> >
Additional information
| | |
| --- | --- |
| Category: | Other materials |
| Color: | natural |
| Weight: | 0,75 kg |
| Average: | 1,75 mm |
| Diameter: | ± 0,03 mm |
| Bed temperature: | 80-100°C |
| Nozzle temperature: | 240±10°C |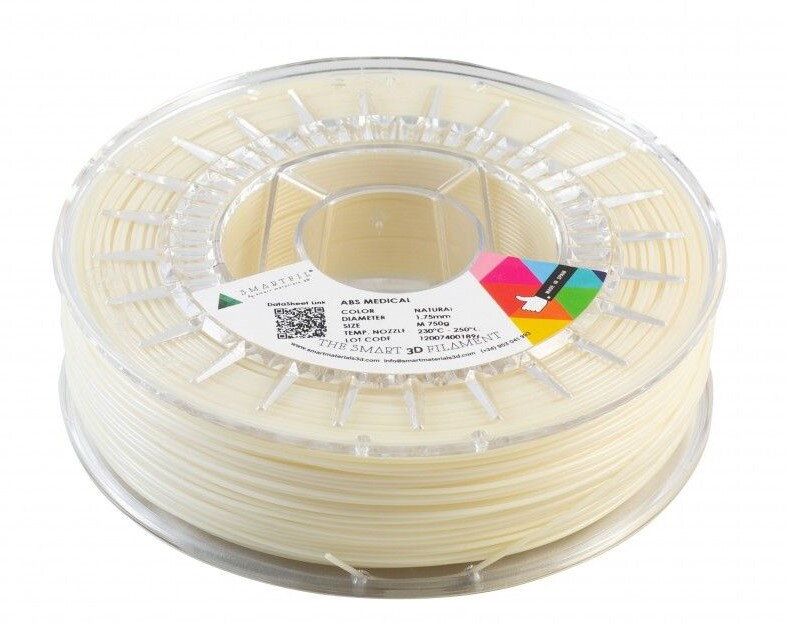 Medical Filament Natural 1.75 mm Smartfil 750 g