Smartfil PLA3D 850:
It is an improved Filament PLA based on the resin made by the prestigious Nature Works specifically designed for 3D applications.

This material has a very low thermal shrinkness and is ideal for printing objects with very small details that require high accuracy. Fast crystallization of this material allows printing even very complex pieces without high speed support (you can reach up to 50% faster printing), while not needing a heated pad. Compared to conventional PLA has better mechanical and thermal properties and due to its easy printing is one of the most popular 3D strings.
Like other PLAs, it is based on a natural basis and is therefore degradable in nature.
diameter: 1.75 mm (± 0.03)
working temperature: 210 ° C
pad temperature: 0-60 ° C
Pack size: M 750G
Large Packs XL 3.3kg, XXL 5.6kg, XXXL 8kg are available to order with a delivery date of 2-6 weeks.
recyclable, biodegradable (compostable).
This material can come into contact with food.

meeting the demanding requirements for FCM (Food Contact Material) is documented in a statement on conformity with EU 1935/2004 and other European regulations. This statement can be found here: food contact with food


Additional information
| | |
| --- | --- |
| Category: | PLA |
| Color: | black |
| Weight: | 0,75 kg |
| Average: | 1,75 mm |
| Diameter: | ± 0,03 mm |
| Bed temperature: | 0-60°C |
| Nozzle temperature: | 220±20°C |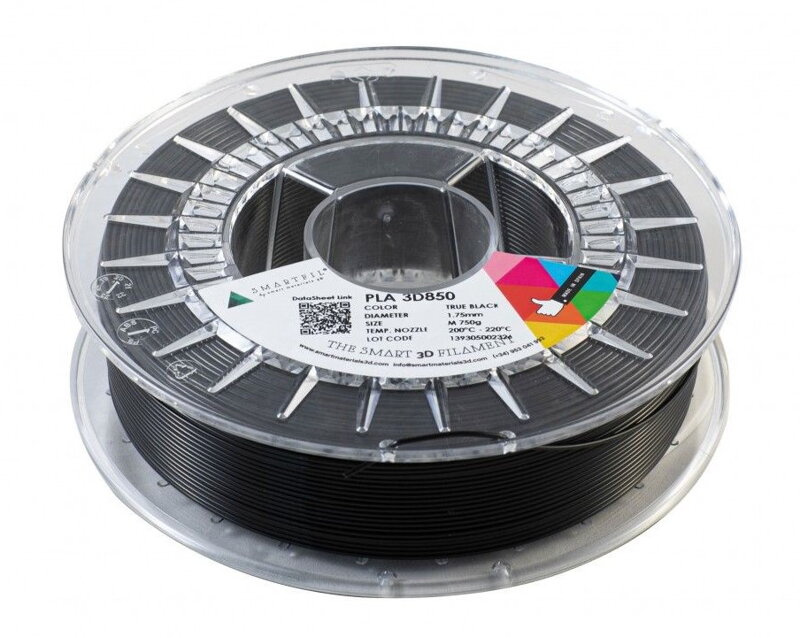 PLA 3D 850 FILAMENT Black 1.75 mm Smartfil 750 g