Black PLA is one of the most used color shades of PLA from this manufacturer.
PLA is the most commonly used material for printing technology FDM , suitable for printing large objects.
1 kg of material is wound on a transparent coil and is vacuumly packed together with moisture absorber in the cardboard box. In each package there is a label with information about the recommended print temperature settings.
outer coil diameter 200 mm, inner hole 52 mm, width 70 mm. The weight of the coil including the packaging 1.4 kg. The approximate fiber length in this package is 330m.
PLA is easy to print, is biodegradable (thus environmentally friendly). However, it is a material that is not suitable for outdoor use, degrades and fragile when exposed to UV radiation. It is also not temperature resistant. Already at 30 - 50st C prints soften and deform. Therefore, it is not advisable to carry prints in cars. PLA is a flammable material. Therefore, we recommend that you do not leave the printer when printing with this material unattended for a long time.
Plastal treatment of Pla - the material cannot be easily sanded, grinding (friction) produces heat that causes "pulling" fibers from prints. Therefore, it is advisable to cool the printout for manual grinding, for example by grinding it underwater. For the same reason, holes are difficult to drill into the print (again the problem with warming up). It is advisable to spray the material first (used in modeling) and then grind, spray again and over and over until the model is perfect for us and then spray it with paint. The resulting model can also be inserted into the "tile" along with shells, stones, remnants of filamers pieces of prints and get rid of undesirable errors, residues, etc.
Recommended PLAV Settings: To print, you only need to use commonly used nozzles (brass). The nozzle diameter is chosen according to the softness of the surface we want to achieve according to the layer force setting during printing. There is a recalcular formula for this optimal setting, nothing less is enough to rule +-0.2mm - ie if you want a layer thickness of 1.25 should not have a nozzle larger than 0.3 mm . For larger layers we use a nozzle with a larger diameter at weaker on the other hand with smaller ones.
pad temperature - no heating is required or just for better adhesion of the material to the pad up to 50st. C. For even better attaching the object to the pad we recommend using 3dlac or adhesive . In general, however, the PLA material holds well on the mat without adhesive.
Recommended setting: print temperature: 208 ° , retraction 0.8mm, speed 60mm/s (outline 70%), layer 0.2mm - 0 , 05mm. When using a PEI foil printer, the mat must be easily degreased. The resulting print is smooth, relatively shiny without visible errors.
PLA material printing with supports - suitable support for prints are made of the same material PL or PVA (water -free material), not suitable hips.
for storage We recommend securing a dry environment. In poor storage in a humid environment, it absorbs moisture, which manifests itself as bubbles on the surface.
Additional information
| | |
| --- | --- |
| Category: | PLA |
| Color: | black |
| Weight: | 1 kg |
| Average: | 1,75 mm |
| Diameter: | ± 0,05 mm |
| Bed temperature: | 50 - 60°C |
| Nozzle temperature: | 200 - 235°C |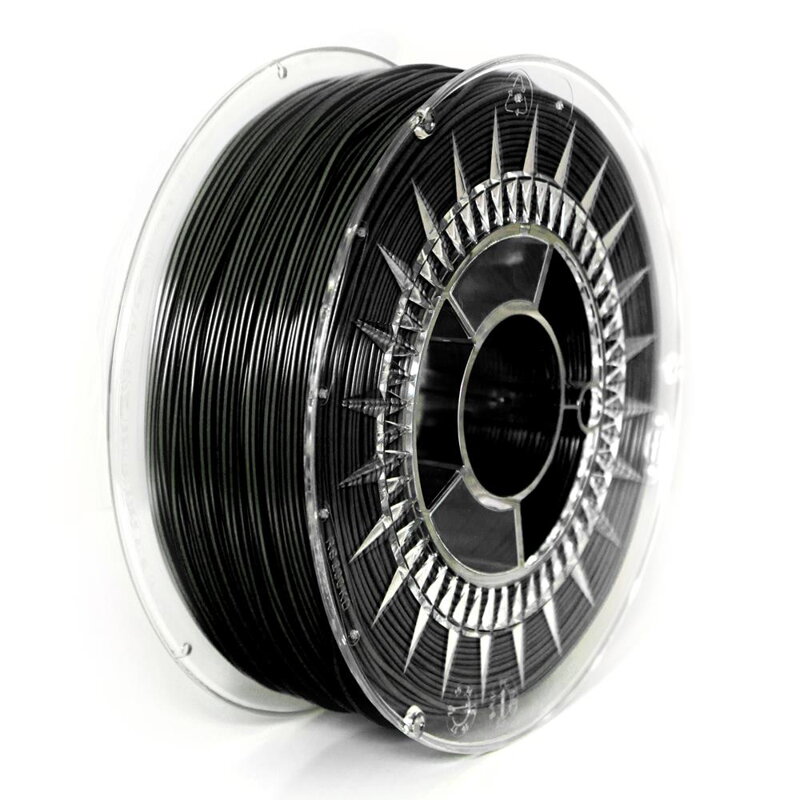 PLA filament 1.75 mm black Devil Design 1 kg