properties:
Acrylonitrile-Butadiene-style (ABS) is a thermoplastic that is used for solid objects. It consists of 5-30% butadien, about 50% styrene and the rest is acrylonitril.
ABS is a solid material with high toughness and character resistance. Temperature resistance between 85 ° C and 100 ° C. Minimum temperature of -35 ° C.
ABS Filament offers unique properties, thanks to the permanent diameter and perfect circularity. In addition, ABS Filament does not come in contact with water and is immediately packed in vacuum.
The material has a great grip between layers. This results in a high improvement in character resistance, strength, durability, printing process and "warping".
ABS Filament meets the European regulations EC 1935/2004, ES 2023/2006 and EC 10/2011 on plastic materials and subjects coming into contact with food. The dyes used equally meet these European regulations.
Our experience in printing with ABS is that when using higher temperatures, the results are significantly better than other ABS materials. This may vary depending on different printers. We do not recommend a room where people sleep.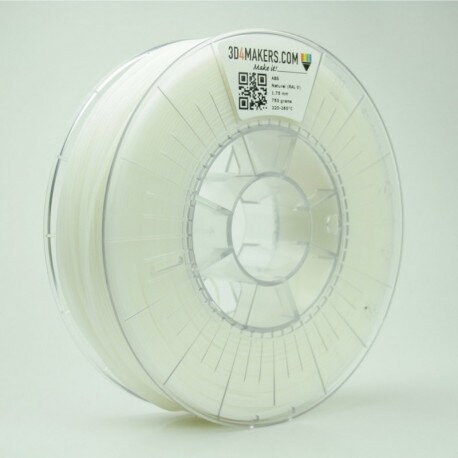 ABS 1.75 mm 750 g Natural