Smartfil Flex:
This is a flexible polyurethane-based filamen that is resistant to water (hydrolysis) and air (oxidation).

It is used in footwear, cars, RC models, etc. Due to its 93A hardness, it shows excellent properties in most printers.

Diameter: 2.85 mm (± 0.05)
Working temperature: 220 ± 10 ° C
pad temperature: 0-60 ° C
Pack size: S 330 g* m 750 g
* available only in diameter 2.85 mm.

Large pack XL 3.3 kg, XXL 5.6 kg, XXXL 8 kg are available on order with a delivery date of 2-6 weeks. Recyclable.
Additional information
| | |
| --- | --- |
| Category: | FLEXI - TPU |
| Color: | black |
| Weight: | 0,75 kg |
| Average: | 2,85 mm – 3 mm |
| Diameter: | ± 0,05 mm |
| Bed temperature: | 0-60°C |
| Nozzle temperature: | 220±10°C |
| Hardness: | 93 ShA |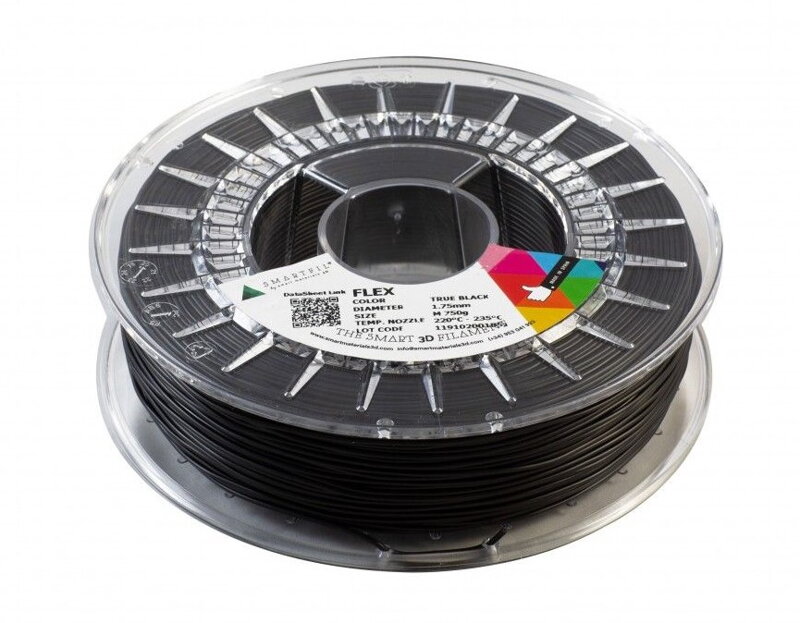 Flex Filament Black 2.85 mm Smartfil 750 g